Youth Pastor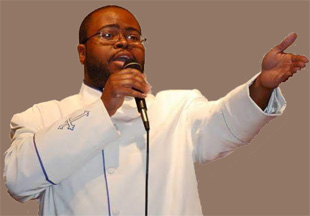 Reverend Wayne Credle, Jr. was born August 4, 1990 to Wayne Credle, Sr. and the Late Juanita Credle. Reverend Wayne was educated in the Norfolk Public School System, graduating from Booker T. Washington High School in 2008. Following graduation, he matriculated to Virginia Wesleyan College, where he earned a Bachelor of Sociology and Religious Studies in December, 2011. In that same year, Reverend Wayne was licensed for the Gospel Ministry at Mount Gilead Missionary Baptist Church, Norfolk, Virginia under the leadership of the Reverend Dr. Shelton Murphy.
In the fall of 2012, Reverend Wayne enrolled in the Duke Divinity School, Durham, North Carolina, interning at a number of different churches and organizations: First United Methodist Church, Cary, NC; Berean Baptist Church, Raleigh, NC; Disciple Bible Outreach Ministries, Jamestown, NC; Butner Federal Correctional Complex, Butner, NC; and Durham VA Medical Center, Durham, NC.
While at Duke, Reverend Wayne served as a blog contributor for "The VoyceRadio.com," and in February 2014, he published his first book entitled "You Ain't Moses: Study Guide and Bible Commentary." Reverend Wayne's book serves as a sequel to the original "You Ain't Moses" text written by Laverne Thornton, focusing on leadership transformation and racial reconciliation.
While completing his undergrad and graduate degrees, Reverend Wayne also served internationally in ministry. In 2011, he travel to Nicaragua for missions. In the summer 2013, he was appointed as an interim pastor for the Bahamas Methodist Conference for Harbor Island, and in 2015 he was selected to study organizational leadership under the ALICT (African Leadership Institute for Community Transformation) program in Wellington, South Africa. Reverend Wayne represented America as he studied alongside 25 other ministry leaders from 24 different countries.
Reverend Wayne currently serves as Youth Pastor/Pastoral Ministry Associate for First Shiloh Baptist Church, Mechanicsville, Virginia under the leadership of the Reverend Dr. R. Neal Siler. There he serves as Director of the Sonlight Learning Center, First Shiloh's After School/Summer Enrichment Program. Reverend Wayne is also seeking certification under The Healing Place, Center for Spiritual Formation and Christian Counseling, a ministry of First Shiloh Baptist Church.